Project Leader, Organisation
Emily Rucker, NSW Department Primary Industries
Status
ACTIVE
Background
Three recent incursions in Greater Sydney have highlighted the risks associated with the importation of goods into Australia and spread from the ports and Intermodal Terminals. These incidents also highlight the need for vigilance from transport and warehouse workers to identify and report biosecurity risks.
The NSW Department of Primary Industries (NSW DPI) is working with Local land Services, Plant Health Australia, Department of Agriculture and Water Resources, and other jurisdictions to deliver a nationally consistent communications education campaign to improve biosecurity awareness and action in the freight and logistics industry.
Objectives and impact
Aim: To reduce the risk of exotic pests and diseases entering Australia undetected through our ports and international gateways.
Objectives: Build capacity in freight and logistic supply chains to address and reduce biosecurity risks by:
Making the case for good biosecurity by communicating the benefits it delivers
Encouraging surveillance and reporting
Encouraging and supporting businesses to develop biosecurity management plans at freight hubs, intermodals and warehouses
Working in partnership to proactively engage with and educate key supply chain stakeholders on biosecurity responsibilities.
NSW DPI will work with its partners and capitalise on existing resources from the national "See. Secure. Report." campaign to drive awareness. NSW DPI will also invest in a research project to benchmark biosecurity awareness in the industry and current drivers of behaviour.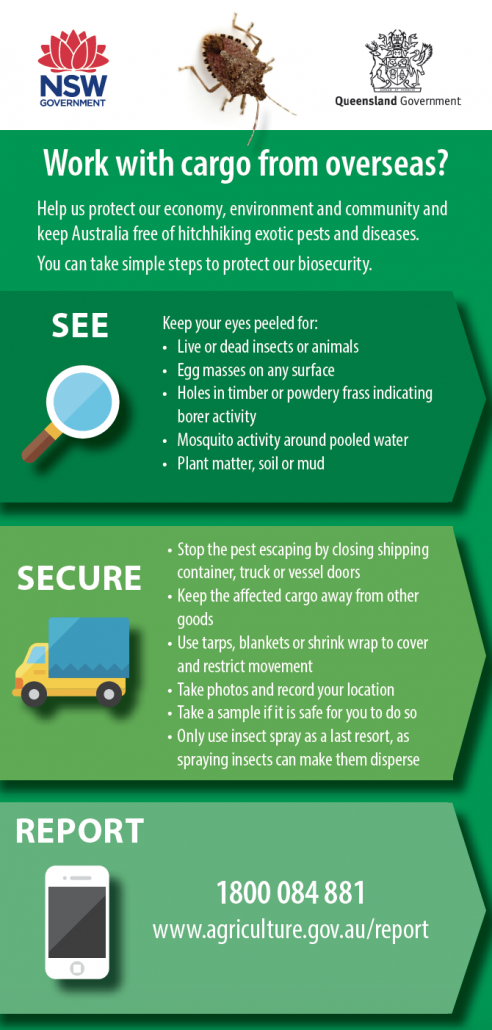 http://www.apbsf.org.au/wp-content/uploads/2018/05/PBSF-logo-inline.png
0
0
admin
http://www.apbsf.org.au/wp-content/uploads/2018/05/PBSF-logo-inline.png
admin
2019-02-12 01:55:54
2019-11-04 01:23:03
Boosting biosecurity awareness and action in the freight and logistics industry (PBSF015)